2018 Honda Accord Named North American Car of the Year in Detroit
January 31, 2018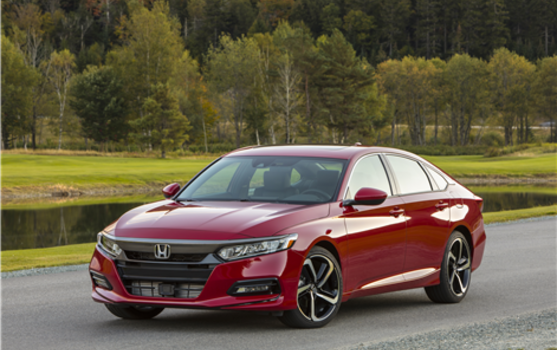 Fundy Honda
Initiated in 1994, the title of North American Car of the Year is one of the most prestigious that can be awarded to a new car. Announced each year at the North American International Auto Show in Detroit, the title was awarded this year to Honda's all-new mid-size sedan, the 2018 Honda Accord.
A 2018 Honda Accord that improves in every way
The 2018 Honda Accord has been improved in every possible way this year and the 10th generation of Honda's mid-size sedan really has a lot to offer consumers. For starters, the new Honda Accord features a 1.5-liter, turbocharged, four-cylinder engine that delivers 192 horsepower while averaging 7.2 liters of fuel per 100 kilometers when paired with a continuously variable automatic transmission (CVT).
It's also possible to get a 2018 Honda Accord with a 10-speed automatic transmission and a 2.0-liter four-cylinder turbo engine developing 252 horsepower. With this engine, we get a car that is very powerful yet economical, and that features the only 10-speed gearbox in the world for a front-wheel drive vehicle.
The title of North American Car of the Year is awarded by a panel of 60 automotive journalists from across Canada and the United States. Last year, the Honda Ridgeline took top honors on the truck side, while in 2016 it was the new Honda Civic that took home the Car of the Year title.
"Honda took a clean-sheet approach to reinventing America's most popular car, and we couldn't be prouder to receive this honor for Accord as the North American Car of the Year," said Henio Arcangeli, Jr., senior vice president of the Automobile Division and general manager of Honda Sales, American Honda Motor Co., Inc. "We're especially proud for the production associates in Ohio where Accord has been built to the highest quality standards for over 35 years."
To learn more about the 2018 Honda Accord, contact us today at Fundy Honda.