2018 Honda Odyssey: the perfect vehicle for your family
June 29, 2017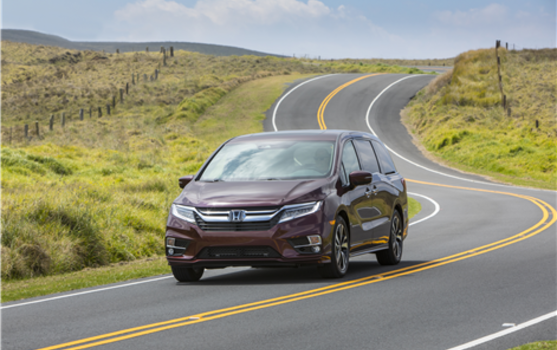 Fundy Honda
For 2018, the Honda Odyssey returns to us with a brand new generation that is more refined than ever.
For 2018, the Honda Odyssey returns to us with a brand new generation that is more refined than ever. The time to compromise for a minivan is over!
The 2018 Honda Odyssey was designed for the real world
Re-engineered from bumper to bumper, the new 2018 Honda Odyssey will quickly become your family's best friend. With its eight-passenger configuration and its built-in vacuum cleaner, the Odyssey is designed and built for real life in order to handle anything your kids can throw at it.
Under the hood, a 3.5-liter six-cylinder engine takes care of making sure you and your family get to your destination quickly and efficiently. Better yet, the driver will be able to have a little fun behind the wheel with 280 horsepower and 262 lb-ft of torque sent to the front wheels. Behind the wheel of the brand new Odyssey, the first thing you will notice is just how un-minivan like it handles and drives. For most buyers, that's a good thing.
And despite its astonishing power, the new 2018 Odyssey boasts an impressive combined city/highway fuel consumption rating of just 10.7 L/100 km. This is made possible by the use of an excessively efficient nine-speed automatic transmission.
With the Touring version, the most luxurious model in the 2018 Honda Odyssey lineup, you get an even more technologically-advanced 10-speed automatic transmission that lowers your average fuel economy rating to just 10.6 L/100 km.
Safety at the heart of the 2018 Honda Odyssey
For Honda, nothing is more important than the safety of its customers. And with its plethora of driver assistance technologies, the new 2018 Odyssey helps keep you and your family safe by not only warning you of a potential danger, but also by helping avoid the danger in question.
Available with the Honda Sensing technology package, the 2018 Honda Odyssey comes with systems such as Adaptive Cruise Control, Forward Collision Warning, Collision Mitigation Braking and Lane Keeping Assist. And if, despite all these driving aids, an accident should happen, there are plenty of airbags and other passive safety systems that are there to make sure everyone is protected.
Arriving shortly, the all-new Honda Odyssey will be available starting at $ 34,890. Do not hesitate to come and find out everything there is to know about the 2018 Honda Odyssey at Fundy Honda today!