Love Your Honda: Keep Your Car In Tip Top Shape With Our Car Care Checklist
March 19, 2018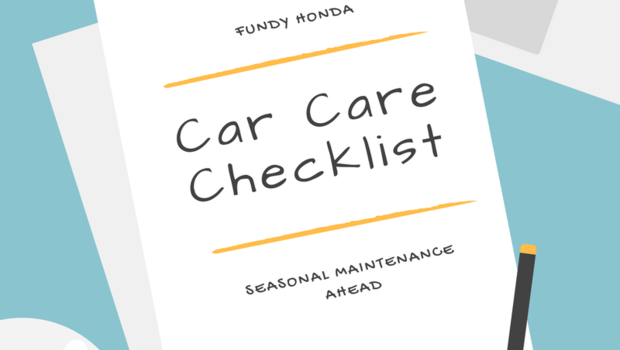 There's a lot that goes into keeping your car in tip top shape. Sure, there are a few things that you can do at home like keeping the exterior clean and dry and keeping the interior vacuumed and dusted but those tasks only make your car LOOK great – you want to make sure that your car is also running great on the inside! And that's definitely a job for a professional.
We've put together a handy checklist of all the items you should have a technician here at Fundy Honda look at when you come in for your regular tune ups throughout the year. A great time to have things checked over is when you take your vehicle in to have its tires changed in the spring and later fall!
Engine: Your engine is the heart and soul of your vehicle and when it isn't running properly it can not only make a racket but also leave you stranded which is no good!

Get your engine oil changed regularly to ensure that you're not using old, stale oil inside your vehicle.
When you get your oil changed you'll also get your engine oil filter changed as well. This helps keep your oil cleaner longer and protects your engine from debris.

Brakes: You don't want to be driving to work some morning and discover you've got a brake issue. That's no way to start your day off right!

Have us check your front and rear brakes regularly so that you'll know whether or not you need repairs to your brake pads, rotors, and calipers.
Inspect the parking brake for emergency situations and for hill parking.
Ensure that the hydraulics for your brakes don't have any leaks or damage by looking over the hoses and lines to make sure they are good quality and working properly.

Tire: Spring and Fall are great times of year to get maintenance done on your tires when you're changing between your summer and winter tires.

Rotate your tires and have them aligned for safer driving and a complete four wheel alignment to ensure a long tire life and effortless driving.
Check the wear level of your tires to get an idea of how much life is left in them before you need a replacement.
Check your tire pressure and top them up to save on fuel costs and elevate your driving quality.

Suspension: Pothole season is already here! Your suspension will help you on bumpy roads during construction season and on country roads if you're exploring during the summer months.

Have your struts, shocks, and dampeners checked so that if you do hit a big bump you know you won't do damage to your car. And if you do hit a big bump make sure to bring your vehicle in to have it checked for even small damage that could become a bigger problem down the road.

Exhaust: You definitely don't want an issue with your exhaust system because it can be a serious health hazard for you and your passengers.

Check the exhaust system to ensure that there aren't any leaks or damages.

General: There are a lot of other car maintenance items you need to remember along the way.

Fluids like windshield washer and brake fluids need to be checked for their levels and conditions regularly.
Fuel lines and connectors need to be looked over so that you aren't leaking gas and wasting money at the pumps.
Windshield wipers should be changed as the rubber deteriorates or they stop clinging to the window and leaving streaks. This should happen approximately once a year.
Lights should be replaced as soon as they burn out so that people get the right signals when you brake or turn on the road.
At Fundy Honda, we not only want to make sure that your vehicle is safe on the road but also that you feel safe in your vehicle. Regular maintenance helps give you a sense of confidence in your vehicle. And with every appointment you'll get a complimentary multi-point inspection so that you're awae of any issues and you're able to know what might need servicing in the future.